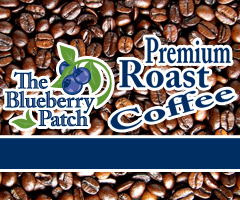 Premium Roast Coffee, from The Blueberry Patch
Fresh Coffee is Roasting in our Beanery!
Providing our customers with the freshest, best tasting, most memorable cup of coffee possible.
Hand roasted right here in Mansfield, OH
- Estate-Grown Coffee
- Freshly Roasted
- Retail & Wholesale
The Blueberry Patch selects only the finest estate-grown Arabica coffee beans and hand-roasts them at our Beanery. We package our coffee beans in special bags to maintain freshness, so the coffee you receive is guaranteed to be at its peak of freshness. We encourage our customers to create their own custom blends, which we will roast to order.
We treat each of our customers as our number one priority.
You are invited to visit our Beanery, located on Hanley Rd in Mansfield, Ohio and sample coffee at Blossoms Café. Then bring home your favorite blend or variety to enjoy with some of our freshly baked pastries!
Varieties Available:
Tanzania Peaberry


Colombian Supremo
Colombian Supremo Decaf
Costa Rican La Minita Tarrazu
Costa Rican La Minita Tarrazu Decaf
Guatemalan Antigua


Java Estate


Daybreak Blend
Midday Blend
Twilight Blend
Evening Blend Decaf


Kona Blend
Blinky's House Blend
Blueberry Patch Premier Blend
Mocha Java Blend
Ethiopia Yirgacheffe
Kenya AA
Sumatra Mandheling
Espresso Roast
French Roast
Nicaraguan
Honduran
Flavored Colombian Supremo- Available in Hazelnut, Blueberry Danish, Snickerdoodle, Frangelica, Crème Brulee, Cinnamon Sticky Bun, and more. We have over 30 flavors available in regular or decafinated.
Current Hours
Gift Shop
Monday - Thursday 10:00am - 6:00pm
Friday & Saturday 10:00am - 7:00pm
Sunday 11:00am - 5:00pm
Lunch
Tuesday - Friday 10:00am - 3:00pm
Saturday 10:00am - 2:00pm
Sunday Brunch 11:00am - 3:00pm

1285 Winery
Wednesday & Thursday 4:00pm - 10:00pm
Friday 4:00pm - 11:00pm
(Live Music 6:00pm - 9:00pm)
Saturday 2:00pm - 11:00pm