PLEASE NOTE: We are currently unable to ship any plants due to the heat. Blueberry Plant shipping will resume in September, when the temperatures are cooler.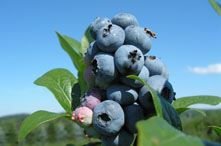 2018 Crop is IN!!
The 2018 fresh blueberry season HAS BEGUN! We expect to continue through mid to late August. We provide buckets to pick in and berries are weighed and paid for by the pound. Plan now to bring your family for an day in the fresh air, taking home the best blueberries in Ohio and memories for a lifetime!
Why Blueberries?: Blueberries are high in vitamins and antioxidants. In fact studies have shown that the blueberry is the leader in Total Antioxidant Capacity (TAC). While rich with Vitamin C, manganese and dietary fiber, the blueberry remains low in calories, sodium and has no cholesterol.
A great addition to any diet .
Blueberries are native to North America. Not only have Blueberries been grow commercially in the US, but throughout our nation's history, countless farms and home gardens have featured their berry patches.
Blueberries weren't just grown for their great taste, the bushes start out the year with delicate white flowers, turning to bright blue berries, then end the season with vibrant red fall foliage making them a beautiful landscape plant.
Blueberries are popular in the US because of their unique flavor and ease of preparation. Simply eaten fresh or incorporated into pies, jams, jelly, pastries, juice, or any of your own fine recipes. Our gift shop even features a cookbook dedicated to versatile uses of the blueberry.
A special thanks to OurOhio.org for featuring us in their publication
Did You Know...
Blueberries are among the 10 SUPER FOODS in the world.


30,000-50,000 honey bees are needed per acre for pollination.


Blueberries will not ripen once they are picked.


1/2 Cup of blueberries has only 42 calories!
Our Frozen Blueberries are also available in local farmers markets!
Looking for Blueberry Growing Tips, or Recipes? Then download a copy of our FREE GROWING GUIDE.
Summer Hours:
May - August
Gift Shop & Berry Picking (when available):
Monday - Saturday 9:00am - 7:00pm
Sunday 11:00am - 5:00pm

Cafe
Monday - Saturday 10:00am - 3:00pm
Sunday 11:00am - 3:00pm
1285 Winery
Wednesday & Thursday 4:00pm - 10:00pm
Friday 4:00pm - 11:00pm
(Music 7:00pm - 10:00pm)
Saturday 2:00pm - 11:00pm